Copyright Kampfner Photography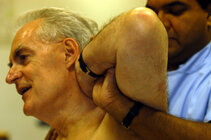 The first visit to the Addiscombe Osteopathic Practice is to find out about you. Detailed questions will be asked about your current problem, past medical history, eating habits and lifestyle. Stress levels and biomechanical factors are taken into account.
For the purpose of an Osteopathic examination, you will normally be asked to remove some of your clothes in order to assess tissue health. Gentle pressure may be used not to irritate sensitive tissues but to identify areas of discomfort or weakness.
Osteopaths use various ways to assess your health - cardiovascular, respiratory, neurological and abdominal examinations.
We allow up to 45 minutes for this appointment
Osteopaths are trained to check for signs of serious conditions they cannot treat. In these circumstances, they will inform you of what they believe is the problem and refer you to see your GP or hospital for further investigations.

Following a full evaluation and diagnosis of your condition, if appropriate, treatment or advice will commence in order to give you some symptomatic relief. A proposed plan to improve your quality of life will be discussed. A subsequent appointment will be suggested if required.
Both Male & Female Practitioners are available.